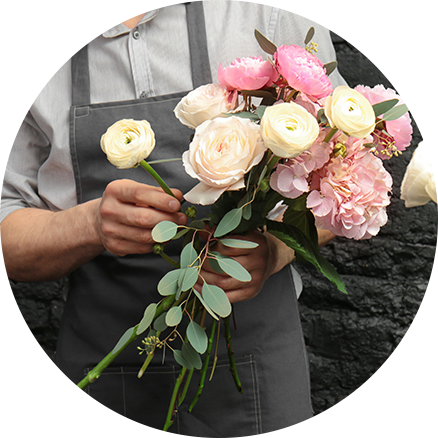 FlowerNOW
An independent local shop
319 Ridge Rd, Lyndhurst, NJ, 07071
(201) 945-1234
How It Works
You Fill Us In
Just tell us who, why, where, and when. We'll even help you write an awesome card message.
We Get to Work
Your talented local florist creates and hand-delivers a fresh, one-of-a-kind arrangement.
You Make Their Day
Rest assured that you're sending the perfect gift, and get ready to hear how much they love it!
FAQs
We're here to help!
Just click "Send Flowers" at the top of this page! We'll guide you through a few easy questions to learn more about your recipient and your special occasion, and then we'll create a meaningful, unique design for you.
How can I see what they'll get?
You may notice that there aren't traditional images of our products. That's because each arrangement we create is a completely personalized design based on what you tell us about this special moment.
How do I know they'll like it?
We pride ourselves in selecting the freshest, longest-lasting flowers and arranging your design beautifully to make an impression. We focus on the intention and emotion you've given us. Using our expertise and knowledge of flowers, we'll select the best ones to deliver your message.
How are my flowers delivered?
Your flowers are hand-delivered in whichever presentation style you choose—vase or hand-wrapped. We'll never send impersonal boxes. The arrangement will be directly handed to your recipient with a smile.
When you buy local, you're connecting directly with us, an independent local shop, which means you get more value for what you spend—more flowers and better quality. Compare that to the big floral networks that can take as much as 30% off what you pay, decreasing the overall value of the arrangement. When you buy local, you get a better gift, and you help support the local community.
Lovingly is proud to work with FlowerNOW and a talented community of local independent florists, dedicated to helping celebrate life's special moments. We believe in strengthening relationships through meaningful giving.